This post contains affiliate links, which means I make a small commission on sales generated through such links. Read my FTC disclaimer for more information.
Honestly, I have mixed feelings about affiliate marketing. While in many cases it is a great way to earn passive income and monetize a blog, there are also some downsides to affiliate marketing. In this post, I am going to tell you about some affiliate marketing scams to look out for as well as other signs that may point to a poor fit for your blog.
Looking to start a blog from scratch but have no idea how to start? Learn how to create a blog on a budget!
Hands down, Amazon's affiliate program has always been my favorite. There is no BS. There is no affiliate manager constantly asking more and more from you and stuffing information and tips down your throat.
The best part about the Amazon affiliate program is that everyone shops on Amazon. With other affiliate programs and products, many people are skeptical and sometimes do not even want to click on outbound links.
What is Affiliate Marketing
Affiliate marketing is a form of marketing where you promote another person's products and receive a commission on sales generated using your unique affiliate link.
This form of passive income does require some work up front. Creating content about the product or incorporating relevant links to your already existing blog posts takes time and effort.
There is no guarantee you will generate any sales. Usually, you are not paid up front, but I have had some brands pay me to write a post in addition to affiliate commissions.
Affiliate Marketing Scams
Unfortunately, scams exist everywhere and this includes the blogging and affiliate marketing world.
I get emails all the time from companies soliciting me to join their affiliate program. It can be annoying and more often than not, it is not a good fit. Sometimes I question why they even ask in the first place because they clearly did not do their research. They clearly did not spend a few minutes looking at my blog and see which topics I write about.
Then there are other times when the offer sounds too good to be true – more or less promising I will get rich quick by joining their affiliate program.
My Experience With an Affiliate Marketing Scam
I am going to use an example without naming the brand who contacted me. The company sells products that is a topic I cover already on my blog. They did get that part right.
Since I belong to an affiliate program in that niche already and the company I am an affiliate for offers me a higher commission rate, this competitor's offer was an easy one to turn down.
This company was offering me half of the commission than that of my current affiliate partner. I asked if they would be willing to match my current affiliate partner's commission rate as well as send me a product to try. They said no and proceeded to tell me why it was still the best fit for me.
Telling them no just didn't cut it for them. They BEGGED me to join their affiliate program over and over again. RED FLAG! I ignored their emails and after the fourth email, they insisted on a conference call with the CEO who was "really wanting to work with me". I accepted the invitation for the conference call.

During the conference call, the CEO asked about my blog and my content and shared information about his products and how much they have helped families support their health and wellness. He told me some amazing life changing stories.
In the end, he said he wanted me to join their affiliate program. The same old song and dance I had heard before on their emails. I again said no. I reminded him he couldn't even send me a product to try and I already have an affiliate partner who I am happy with.
He promised me a free product IF I generated a certain amount of sales first. Total BS. RED FLAG! At this point, all I could offer him was the opportunity to pay for a sponsored post. He obviously declined.
When the call ended, I researched the brand more and read their entire affiliate terms and conditions from start to finish. Come to find upon joining their affiliate program, you must put a credit card down for payment. RED FLAG!
As I read on I also saw that they charged a monthly fee for being part of their affiliate program. RED FLAG!
These are just some of the red flags I had found. I also Google mapped their address which was non-existent. Their 800 phone number was also the same as another number I found online for what appeared to be another fake company.
Signs to Look Out For
To avoid being a victim of an affiliate marketing scam, there are some signs to look out for. I prefer Amazon's affiliate program as well as other third party affiliate marketing platforms like Share-A-Sale.
Here are signs to look out for when it comes to affiliate marketing scams:
Never join an affiliate program that asks for your credit card information
Never join an affiliate program without a real address and phone number
Never join an affiliate program that charges YOU money
Get rich quick offers
Pay to join programs
Brands who will not provide a sample to try (with the exception of Amazon)
Programs that ask for your personal information such as your social security number – You will be asked to fill out appropriate tax forms only if you generate $600 or more in commissions per year.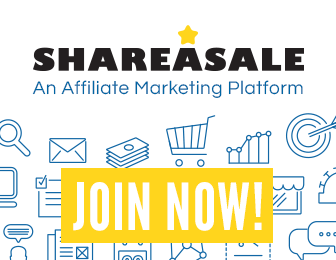 With that said, there are times when you need to fill out a W9 or provide personal information for payment purposes. When you can, use your PayPal account for collecting your affiliate commission payments.
Affiliate Marketing Platforms to Join
Through affiliate platforms like Amazon and ShareASale, you do not have to provide the brands this information individually, as it is all done through the third party platform already.
If you do join an affiliate program directly through a company's website, make sure it is a reputable company and you have researched their reviews, address, phone number and maybe even read some forums where you can find other affiliates.
If you can, ask them for a sample or product to try so that you can use the product and write genuine content about your love for the product.
Some affiliate programs also have affiliate Facebook groups which is a great way to find out if they are legitimate.
When you are new to blogging and affiliate marketing, it can be tempting to join every program you come across and accept every offer that comes your way. Although tempting, it is better to be conservative with your affiliate partners and join programs that are truly a great fit for your blog.
Even better would be joining affiliate programs of brands you already love and use their products. This makes it easy to write content about the products with little effort.