This post contains affiliate links, which means I make a small commission on sales generated through such links. Read my FTC disclaimer for more information.
Starting a food blog can be a lot of work! Having a recipe blog myself, there is a lot that goes into food and recipe blogging. From cooking recipes to staging and taking photos, there are so many aspects behind the scenes. Here is how to start a successful food blog and make money.
Back when I started All Natural & Good, it was easy to make money from Google ads alone. In today's blogging world, it is much more complex than that. The quality of your photos matters, the quality of your content matters and SEO is still very much important.

With food and recipe blogging, it is often hard to create a content-rich post. I find myself adding in all the fluff to make it more than just a 200 word blog post with an ingredient list with recipe directions.
While recipes and food are only part of my blog content, there are so many hats to wear as a blogger of any kind. Having a successful food blog can be complicated.
How to Start a Successful Food Blog
It all starts with the basics when it comes to setting up any website or blog. I highly recommend reading my post about how to start a blog if you haven't yet created your food blog website.
Choose a niche that you are knowledgable and passionate about. The narrower the niche, the better. If you can do strictly Vegan recipes or target a particular audience, this can make your blog more successful.
How to Grow a Food Blog
Growing any blog can be hard. With the right tools and support, you can grow your blog with other like-minded bloggers in the same niche. When it comes to food blogging, Food Blogger Pro is the program I recommend.
What is Food Blogger Pro?
Food Blogger Pro has been used by one of favorite food bloggers, Beth. Her food blog Budget Bytes is the perfect example of a successful food blog. She does an excellent job sustaining a food blog and I totally admire her skills.
What You'll Learn From Food Blogger Pro
This was pulled directly from the Food Blogger Pro website:
Other topics include the following:
Food Blogger Pro also has an amazing community: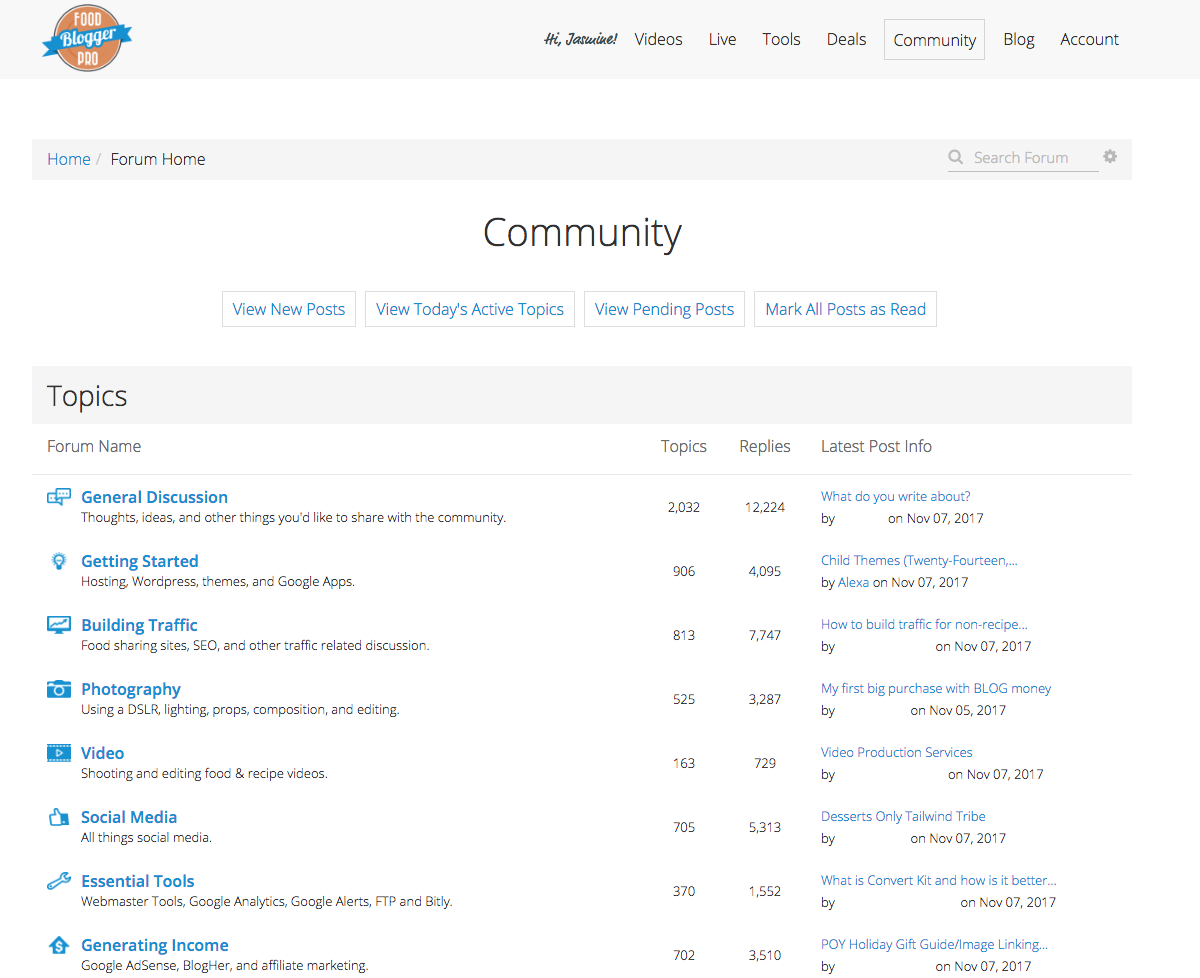 How to Make Money From a Food Blog
There are several ways in which you can monetize a food blog (or any blog) with the right skills and resources. Food Blogger Pro goes more in depth with this topic but some ways to make money from a food blog include:
Ads
Affiliate Marketing
Sponsored Content
Creating a Product to Sell (like an eBook)
Printables as Products
Amazon Affiliate Links – I use Amazon links for cookware I use and love or if there are certain ingredients that may be sold on Amazon
Pinterest Marketing For Food Bloggers
Food and recipe pins thrive on Pinterest! If you do not utilize Pinterest yet, I highly recommend you do so. You can read my beginners guide to Pinterest marketing to help you get started on Pinterest.
Have you ever thought about starting a blog? Learn how to start a blog on a budget with no experience needed!